MetroPro's Services Provided: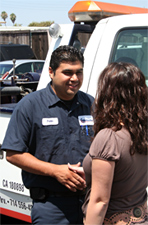 Law enforcement towing and storage
Removal of illegally parked vehicles (PPI)
Heavy duty towing and recovery
Weekly public car auctions
Motorcycle towing via custom hydraulic trailer
Flatbed towing
Commercial / Fleet accounts
Emergency road service (lockouts, jump start, flat tire change)
Long-term vehicle, boat & RV storage
»
Learn about our markets served

Spanning five decades of service and growth within Southern California, MetroPro is positioned to take on the challenges of the future. As MetroPro's management team looks forward, we continue to build upon our reputation of honest, ethical and reliable service. We will continue to invest in state-of-the-art equipment and technology, rigorous training programs and the hiring of superior employees. MetroPro will continue to be at the forefront of professional standards and safety in the towing industry.
To learn more in-depth information about the MetroPro organization, please investigate the following links: