Operations:
Currently, MetroPro has a fleet of 50 trucks, 70 employees and five impound facilities serving Orange County.
The genesis of the MetroPro organization occurred in 1961 when Santa Ana Towing was founded. Santa Ana Towing began on a simple principle to earn a reputation for superior customer service supported by a foundation of unwavering integrity. To build on that foundation, Santa Ana Towing hired and trained skilled personnel, provided them with the highest quality equipment, and focused on the needs of its customers.

In 1996 MetroPro was formed as the central management company for all the affiliate companies creating a uniform management and single marketing point to leverage the efficiencies derived from operating as one. Additionally, leveraging MetroPro's purchasing power allows the company to provide better benefits and training to employees, thus attracting and developing a higher caliber of worker.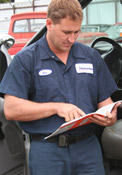 We maintain a 24-hour centralized dispatch center that services all of our companies and covers all of Orange County. Equipped with a state-of-the-art computer network, the dispatch center utilizes the CATS towing management program. The program allows dispatch technicians to locate and dispatch trucks closest to the customer call, provide the driver with relevant information regarding the call, and track the calls progress from inception to completion. The efficiencies created by the program directly translate to improved service for MetroPro customers.