MetroPro's Locations:
Located in Santa Ana, Anaheim, Costa Mesa, Huntington Beach and Irvine, each of these facilities provides inside and outside vehicle storage and delivers customer support through on-site managers.
Centrally located, our 30,000 square foot headquarter building sits on a four-acre site and includes general office, management, dispatch, customer service, fleet maintenance and lien sales functions. The facility contains a fleet repair shop, dedicated employee locker rooms, showers, offices and lunch facilities, as well as a 26,500sf inside-vehicle storage area for high-value and police evidentiary vehicles. Our primary location is truly one of the most modern towing and storage facilities in Southern California.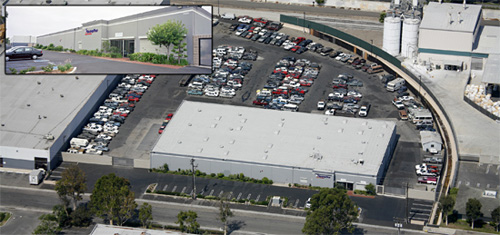 MetroPro's facilities offer the following amenities
Indoor customer waiting areas
On-site public telephone
Office space for visiting customer and police personnel
Secured outside vehicle impound/storage area
Secured inside vehicle impound/storage area
Abundant off-street customer parking
Digital video surveillance cameras located throughout the properties to record vehicle lot inventory and related activity
Interior audio/video recording to insure security and efficient customer service